A BETTER WEB DESIGN COMPANY IN SAN DIEGO.
In 2010, Robert Shepherd, analyzed analyzed every "best design company in San Diego" and more importantly the WordPress segment of that industry. He found that while there were many service providers and tons of accessible technologies, no one was providing the level of service and expertise at the standard he expected. The segment was too fragmented, too home-grown, and had too many "expert" freelancers looking to service the industry, without having the breadth of skills needed to produce truly professional results.
Jump ahead to 2012. MosaicVisual was formed with the focussed intent of becoming a preferred one-stop solution, providing the highest level of service and expertise to an ever growing list of clients.
As the best design company in San Diego, MosaicVisual offers a broad array of services to handle any visual design, web development, digital marketing, and print service job a client will ever need. We are able to handle any sized project, using legacy or emergent technologies, while staying on budget.
The end result is MosaicVisual can offer customized turn-key, end-to-end solutions, giving small- to mid-sized companies access to services that are typically only offered to Fortune-Level companies.
We Thrive On Challenging Projects That Produce Better Results.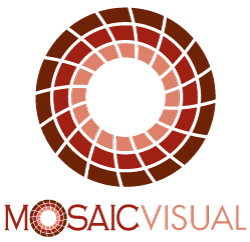 Fitting the Pieces to Grow Your Business!
Through Creative Ideas, Innovation & Sheer Determination