Take your business to the next level with Mobile Apps by MosaicVisual.
At MosaicVisual, we focus on growing your loyal customer base, encouraging repeat and more frequent sales, and increasing exposure to new customers.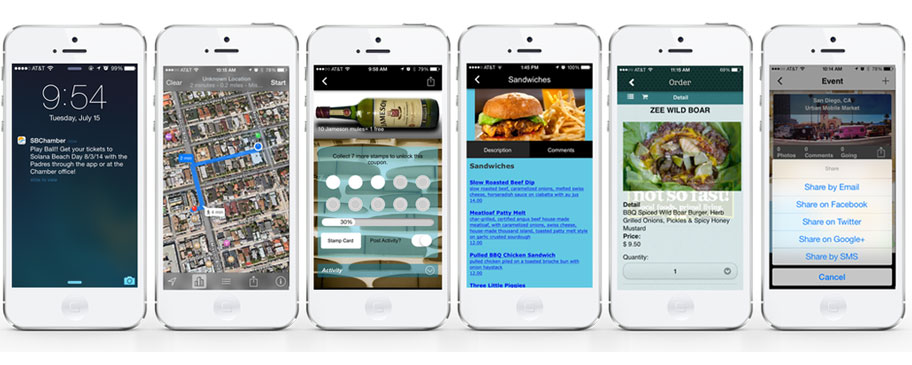 Push Notifications
Sending instant messages to your customers will keep your business top of mind.
Grow Your Loyal Customer Base
Grow your loyal customer base by utilizing a loyalty program as well as offering app exclusive coupons, discounts and promotions.
Customer Connection
Give your customers multiple ways to reach you with features like one-touch calling and turn-by-turn directions to your business.
Go Viral
Your customers will be able to share your business with their friends via all social media sites and leave feedback on your apps' fan wall. A recent survey found that 35% of smart phone users check their social media outlets before even getting out of bed. Is your business tapping into Social Media?
Inform Your Customers
Fill your app with up-to-date information including menus, events, special promotions, product samples and more to keep your customers always in the know. Don't have time to update daily? Our monthly maintenance covers that. Just send us an email/text/call and we will update it for you.
E Commerce and Accessories
Make it easy for your customers to interact with your business through handy features like in-app ordering, tip calculator, and other business information.
The average amount of time that smart phone and tablet users spend with mobile apps is 94 minutes per day, more than the 72 minutes that they spend on the internet.
-Flurry
Mobile Apps is just one of many creative services offered to San Diego businesses.
Call now to let us know how we can best serve you –
858-213-3787. Or click for a custom quote.